In 1975 Kenneth Good, a doctoral candidate in cultural anthropology, traveled to the headwaters of the Orinoco in Venezuela to live and study among the Yanomamö. He joined anthropologist
Napoleon Chagnon
for what was supposed to be fifteen months of fieldwork, funded by a generous grant from the National Science Foundation. But Good would end up living almost full-time with the Yanomamö for more than twelve years, sharing their lives, becoming fluent in their language, and marrying a Yanomamö girl named Yarima.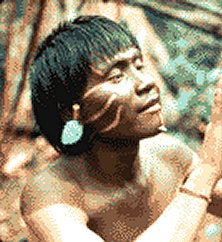 Yarima in 1992, from the film
Yanomami Homecoming
After Good had been living among the Yanomamö for about two and a half years, he found himself under increasing pressure to become betrothed. The headman of the village was insistent. "I found myself thinking that maybe being married down here wouldn't be so horrendous after all," Good writes. "Certainly it would be in accordance with their customs." The more he thought about the idea, the more attractive it became. "After all, what better affirmation could there be of my integration with the Hasupuweteri?"
It is common among the Yanomamö for an older man to become betrothed to a younger girl. Such betrothals are not consummated for some time — perhaps not ever. The Yanomamö understand that sometimes these relationships don't work out. A girl might thus be betrothed several times before actually being married. The girl brings food from her mother's fire to feed the man; he brings her his own gifts of food. They talk and joke together. Eventually, the girl feels comfortable being around his hearth and being around him. If things work out, they become friends.
When the girl has her first menses, the man and his betrothed hang their hammocks side by side, and they have sex for the first time. The girl thus has an instant husband and protector. Women beyond the age of puberty are routinely raped if they do not have husbands.
The Yanomamö have nothing like a formal ceremony comparable to marriage in American culture. Divorce is just as informal. The departing spouse simply removes his or her hammock from the space of the other spouse inside the
shabono
, the large communal house, and then resists or refuses reconciliation and reunification.
Good figured that the betrothal would not last, and presumably would never be comsummated. He was, after all, going to go home at some point. But he thought, "What the hell, what would be so wrong in saying yes?" So he agreed. "Good," said the headman, smiling broadly."Take Yarima. You like her. She's your wife."
At that time, Yarima was around nine years old. Good was thirty-four.
Valdir Cruz,
Yarima
(1996)
Good found himself becoming increasingly fond of his child bride. The community began taking it more seriously too. The women started calling Good
yarima heorope
. "Our relationship changed," he writes. "Before, Yarima had been the cute little girl with the smile and the hello. Now it was something more than that and, as time passed, a good deal more than that." Yurima had her first menses while Good was away on a long trip. When he returned, they hung their hammocks side by side, and they consummated their marriage.
Yanomamö do not keep track of their age. Good and Yarima were married shortly after Yarima's first menstrual period. In a nonindustrial society, especially one like the Yanomamö, where obesity is virtually unknown, a girl would normally have her first menstrual period between the ages of thirteen and sixteen, much later than girls in industrial societies. A good guess is that the marriage was consummated when Yarima was about fourteen years old. Good was by then close to forty.
The marriage created problems in the village where Good lived with Yarima. Yanomamö attitudes toward women and sex were very different from his own, and, while he might normally regard these with anthropological detachment, his attitude was different when they were directed at Yarima. Good frequently had to be away from the village — for permits, visas, research funding. He made a public and very angry announcement that his wife was to be left alone while he was gone. Still, on one occasion when he went downriver on business, the village decided that he was dead, and Yarima was raped by a number of men. One of the men was his own brother-in-law, Yarima's sister's husband, with whom it was considered normal for Yarima to have sex. But Good was furious when he returned, and he berated the man publicly. Another time when he was gone, Yarima was beaten and her ear partly ripped off. Yarima's brother could not understand why Good was so upset by all this. It's just
naka
, he told Good, just pussy. What do you care?
These difficulties were eroding his relationships within the village. And now, too, Yarima was pregnant. Finally, in 1987, after living with the Yanomamö for twelve years, Good took his nineteen-year-old wife and went back to the United States. The couple moved in with Good's parents in Media, Pennsylvania, near Philadelphia. Here they were married in a civil ceremony, and here their first child, David, was born.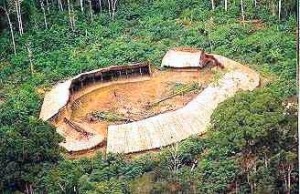 A Yanomamö
shabono
The following year, in 1988, they returned to the jungle for a visit, taking David with them. Yarima was pregnant again, and, while they were there, Yarima gave birth to Vanessa, their second child. The visit cost Good about $23,000 for supplies, provisions, air fare to Venezuela, the flight to the interior, and the five- or six-day boat ride up the Orinoco River to Yanomamö country. If they were going to keep visiting Yarima's people, Good would have to make some money.
In 1991, Good, along with author David Chanoff, wrote a book about his experiences among the Yanomamö entitled
Into the Heart: One Man's Pursuit of Love and Knowledge among the Yanomama
. The book also contained bitter criticism of Good's one-time mentor, Napoleon Chagnon. It was a moderate popular success, and it continues to be frequently cited in discussions of Yanomamö culture. It also made the couple, briefly, international media celebrities. Good sold their story to Columbia Pictures for $50,000, and he says that he received a telephone call from actor Richard Gere, who was interested in playing him. The money helped Good finish up his doctorate — not under Chagnon, but under well-known anthropologist Marvin Harris at the University of Florida.
At about this time, author Ron Arias
interviewed Good and Yarima
at Good's parents' home. All the questions were passed through Good, who translated them into Yanomamö. "The Yanomamo live naked their whole lives," Good told the interviewer. "When I first took her out of the jungle, it was a constant struggle to get her to keep her clothes on. If I turned my back on her or left her alone, off they'd come. One time I had to chase her down the street to cover her up." Arias heard stories of how Yarima thought that automobiles were going to bite her, how she learned to make light by moving a little stick on the wall, how she had given up her hammock to sleep on a big soft box. Once slender, she was now short and stocky. "I see no joy in her face," Arias wrote, "and I'm feeling uneasy because we're talking about her as if she were an object or pet from another time."
http://www.singingtotheplants.com/wp-content/uploads/2009/08/shabono2-300x215.jpg
Inside the
shabono
Finally, in 1992, Good found a job teaching anthropology at Jersey City State College — now called New Jersey City University — in Jersey City, New Jersey. NJCU is a small urban public commuter school, which began as a state teachers college and officially became a university only in 1998. The school has no department of anthropology, and until 2008 Good was the only anthropologist on the campus. It is not clear to me how Good wound up teaching at this school. He had his doctorate; he had worked for the prestigious Max Planck Institute in Germany; he had extensive — indeed, extraordinary — field experience; and he had published a significant memoir. Perhaps he was, at the age of forty-nine, considered too old for other entry-level positions. He had also quite publicly broken with the powerful Chagnon. Apparently Good was having trouble getting academic employment, and he and his wife found themselves in a small apartment in Rutherford, New Jersey.
The couple continued to attract media attention. Reporters were obsessed with Yarima's exoticism, and made constant references to her alleged Stone Age origins, as if the Yanomamö somehow had no history. One reporter
described the Yanamamö
as "naked Indians who feast on termites and tarantulas and have yet to invent the wheel."
Another said
that "modern devices such as washing machines, television and the telephone were as foreign to her as they would have been to Neanderthal man." The same writer quoted Yarima's English language teacher as saying that Yarima was four feet tall and had no concept of time. "She did not know if it was morning or afternoon," the teacher told the interviewer. And she added, "One thing you noticed about her was that she could not coordinate colors."
Yarima had grown up in a
shabono
, surrounded by people. Her day had been spent gathering fruit and fishing with her sisters and mother. They would make a fire, sit and talk, laugh, watch each other's babies and take turns going off to gather food. Then they would go to the stream, wash their babies and themselves, and come home with flowers in their hair. In New Jersey, she lived in a small apartment — isolated, alienated, and bored. Running water, appliances, malls, and television were not enough. She spent the day listening to cassette tapes Good had recorded of Yanamamö voices and the sounds of the jungle, and watching the videos they had shot on their 1988 visit.
One interviewer noted
that Yarima did not leave the house unless Good went with her. They had no friends among their neighbors, whose houses were abandoned by working husbands and wives during the day.
http://www.singingtotheplants.com/wp-content/uploads/2009/08/yarima2-300x198.jpg
Valdir Cruz,
Yarima Breastfeeding Among Her People, Venezuela
(1997)
Good also notes that Yarima began to view him differently once they were immersed in his culture rather than hers. He did not carry a shotgun. He obeyed the orders of police officers. When, after a minor traffic accident, a woman yelled at him and called him an idiot, he did not shout back and threaten her. Yarima thought he had lost his manhood.
And now Yarima had a third child, Daniel, to take care of. She did not understand why Good did not spend more time at home with his children, as Yanomamö fathers do, or why he had to leave her alone in the apartment every day while he went to work. "She didn't understand meetings,"
Good told an interviewer
, "time periods, schedules, students sitting in class waiting for you, why I had to go every day." Once,
on a book tour together
, to her dismay, Good said he was too busy to talk with his daughter on the telephone. Good dismissed her concern. "She can't understand how it is I don't want to talk to my own kids," he said, his hands on her shoulders. "She'll get Americanized."
Both Good and Yarima thought it would be a good idea to visit her home village once more, but they could not afford the trip on his salary as an assistant professor. Finally, in 1992,
National Geographic
agreed to finance the trip if they could make a documentary film out of it, to be called
Yanomami Homecoming
. The magazine sent three boats full of people and equipment to the Upper Orinoco, but not — as they had apparently promised — either a doctor or medical supplies for the Yanomamö. The
National Geographic
filming, too, seems to have been something of a disaster, which was in turn captured on tape by a village Yanomamö who had acquired his own 8mm video camera.
While Good and Yarima were awaiting the film crew in Caracas, Good learned that his father had died, but decided to honor his commitments to the film crew rather than return to the United States. Yarima could not understand this; Yanomamö have very strict rules about obligations owed to deceased relatives. When she returned to her village, Yarima learned that her own mother had died, and her own intense grief only underscored what she perceived to be her husband's callousness. Moreover, according to Good, members of the film crew, presumably in order to make more dramatic footage, encouraged Yarima to criticize him.
http://www.singingtotheplants.com/wp-content/uploads/2009/08/yarima3-198x300.jpg
Valdir Cruz,
Yarima and Son, Venezuela
(1996)
Finally, Yarima simply ran away, apparently at the instigation of a member of the
National Geographic
film crew. This happened at the airstrip in Platanal, just as they were about to board the plane for a flight to Caracas. Good and Yarima had spent days in agonizing discussion about her wish to remain with her people, and she had agreed to give New Jersey one more chance. But she changed her mind at the last minute. She stopped, hesitated, and then just turned around and left.
For a while, Yarima appeared on talk shows in Caracas, discussing her decision to abandon the United States and her family. Then, at the end of 1993, she disappeared into the jungle. There were rumors that she was dead, or hiding in the hills.
In 1996, investigative reporter Patrick Tierney, accompanied by Brazilian photographer
Valdir Cruz
, while doing the research among the Yanomamö that would result in his scathing and controversial book
Darkness in El Dorado
, had his sleeve tugged by a woman who said, in perfectly good English, "Hello. My name is Yarima. What is your name?"
Tierney writes that Yarima was nursing a baby and looked, as he put it, radiantly healthy. She had married again, Cruz says, and had two more children. She told Tierney that her new husband was treating her well. She asked about her three children in New Jersey, adding, "Here good. Jersey bad."
Tierney's discovery of Yarima among the Yanomamö became as much of a news story as had been her life in New Jersey.The
Times
of London published three stories in 1997 about how Yarima had abandoned civilization for the jungle, and about a new expedition that would entice her back by playing tape recordings of her three children in the United States begging her to return. The expedition turned out to be nonexistent.
That is as much as I know. I have seen no additional reports of Yarima's life in the jungle. Good and Yarima are divorced, and he continues to teach anthropology at New Jersey City University, where
his students consider him
a likeable if undemanding teacher, and enjoy his stories of life among the Yanomamö. A proposed sequel to
Into the Heart
has not appeared. I do not know if he has remarried. Yarima, if she is alive, would be around forty-one years old. Good and Yarima have not seen each other for sixteen years.
View the full article